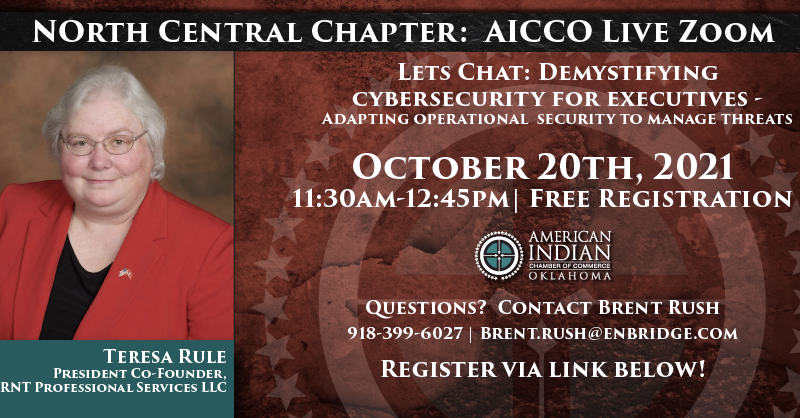 Join us via Zoom for our North Central Chapter Luncheon, Wednesday, October 20th, 11:30 am – 12:45 pm!
Cost: FREE
Questions? Contact Brent Rush, 918-399-6027, brent.rush@enbridge.com
Topic: Demystifying Cybersecurity for Executives – Adapting Operational
Security to manage Cyber Threats

Speaker: Teresa Rule, President, and Co-Founder, RNT Professional Services LLC
Teresa Rule is the President and Co-Founder of RNT Professional
Services, LLC. Teresa served in the US Marine Corps and holds professional certifications
as a Project Management Professional (PMP), Certified Information Systems Auditor (CISA),
Certified Data and Privacy Solutions Engineer (CDPSE), and is a Cybersecurity Maturity
Model Certification Provisional Assessor (CMMC-PA) and Provisional Instructor (CMMC-PI).
A native of Cleveland County, Oklahoma, Teresa enjoys reading and travel. She is an active
member of St. Joseph's Catholic Church in Norman, OK, and likes to spend time with her
husband of 39+ years and their six children.
Description of discussion: One of the primary responsibilities for business owners is Risk
Management. In 2021, cybersecurity risks are present at every level. This presentation will
review the types of cyber risks, the resources to manage those risks and provide techniques
that fold risk management into operational security. Participants will hear straight talk on
topics from Access Control to Zero Trust; Asset Management to System Integrity.