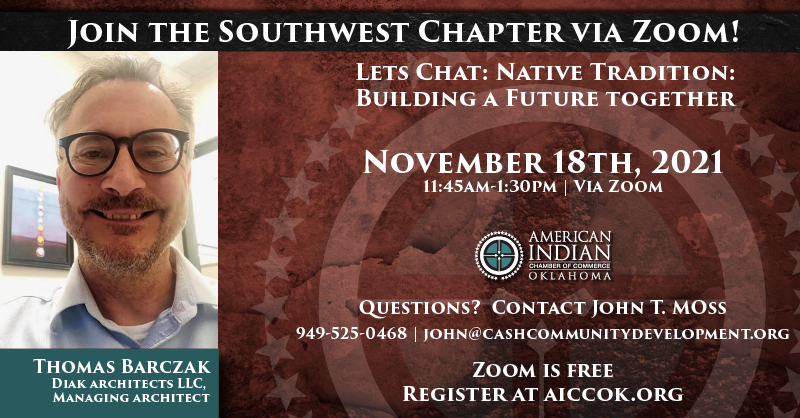 Join us Via Zoom for our Southwest Chapter Luncheon, Thursday, November 18th, 11:45 am – 1:30 pm!
Where: Via Zoom
Topic: Native Traditions: Building a Future Together

Speaker: Thomas Barczak, Diak Architects LLC, Managing Architect
Native tradition sings to my heart. In witnessing its ideals of community, of service, of family, of remembering, of stewardship, of conservation, of innovation, of building a future together that is better than today. I am grateful that our daughter, and our sons, will all grow up knowing these things. Shannon and I want Diak Architects to be a vessel to give something of that back.
In Apsaalooké, there is no word for Architect, nor for Builder. "Diak" means Maker. I like that. When you take away all pretense, it really is all about "making." It's about creating something new – new relationships, new ideas, new possibilities, new opportunities, new foundations, new structures, new beginnings. I believe that's when architecture is at its best, really. That's what Diak Architects is all about."
A Licensed Architect since 2007, with a Masters of Architecture from the University of Oklahoma, Thomas has designed and managed over $200,000,000.00 worth of Construction, principally in Education, but including Industry, healthcare, performing arts, athletics, maintenance, and food service facilities.