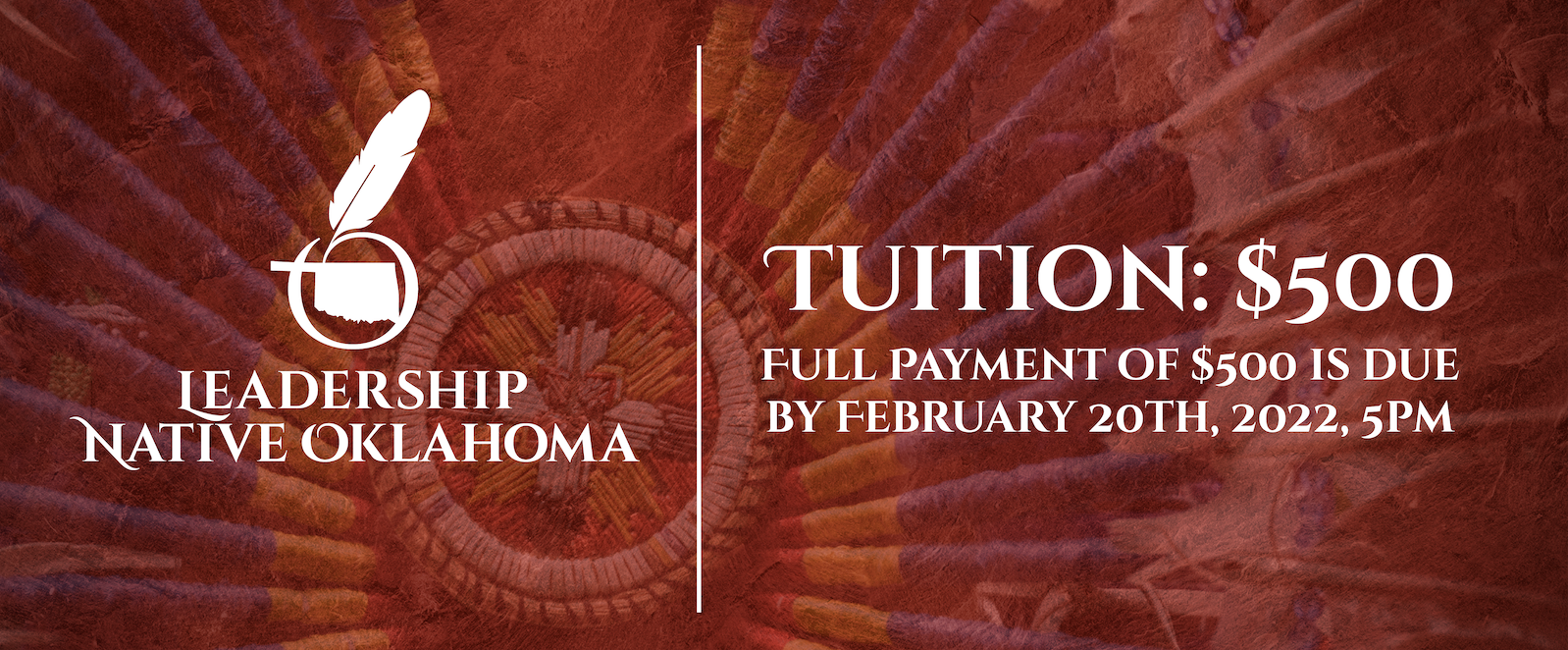 Applications for Class of 2022 are now closed.
Applicants were notified of acceptance on February 2nd, 2022 via email. If you were accepted into the program, congrats! We're so excited for this upcoming Class of 2022!
Full payment of $500 must be rendered by February 20th, 2022 by 5 pm. Approved applicants were emailed a link to pay February 4th, 2021.
Refunds will be honored if written notice (e-mail acceptable), is provided to AICCO up to February 24th, 2022 by 5 pm. Due to commitment deadlines with venues, scheduling, and hospitality arrangements, no further refunds are possible beyond Feb 24th, 2022
Sponsorship information is below!


Sponsor Leadership Native Oklahoma Class 2022!
Help shape tomorrow's native Oklahoma, today! Grow your business outreach by choosing one of the four LNO Class of 2022 sponsorships! See below for details or click the button to view and download the sponsorship flyer. Questions? Email chamber@aiccok.org!
OVERVIEW
MISSION STATEMENT – Leadership Native Oklahoma (LNO) is committed to improving Oklahomas future for our communities, native and non-native alike, by encouraging, installing, and facilitating a support network of dynamic leaders with a tribal perspective in mind. Stimulating the need for increased awareness and commitment to all areas of tribal involvement, native and non-native Oklahomans will work to shape Oklahoma's future for all citizens.
Leadership Native Oklahoma (LNO) is a statewide organization encompassing Native American Citizens from every region of the state ensuring a diverse group of leaders. LNO is a unique opportunity to foster cohesiveness from a group of tribal leaders and future tribal leaders from different backgrounds. The hours spent together will create a bond like no other organization across the state. Based on respect and interaction, to identify, evaluate and implement projects that are of value to Native American businesses in Oklahoma. This organization is a program of the American Indian Chamber of Commerce of Oklahoma.
PROGRAM OBJECTIVES
Explore some of the most powerful forces and trends shaping Native American businesses, tribes and global businesses in the 21st century
Offers interactive learning opportunities, one-of-a-kind experiences, and high-level introductions to outstanding community and tribal leaders
Optimizes opportunities to engage with leading innovators and directors of tribal and state government
Provides in-depth discussions of leadership theory, competencies and best practices led by tribal leaders and leadership experts
Creates a supportive environment to dialogue among leaders who gladly share what they know and value as well as what the LNO member needs to know and understand
Brings together established leaders of diverse backgrounds and professions to form better understanding and forge long-lasting relationships and collaborative opportunities
PARTICIPANT RETURN ON THE INVESTMENT
Enhances their knowledge far outside their areas of expertise with broader, more state-wide and global connections
Prepares them for more advanced leadership in the ever-changing marketplace and increasingly diverse society
Establishes strategic relationships and opportunities to share information with leaders from a broad spectrum of disciplines and interests
Refreshes their leadership skills portfolio

SPONSORSHIPS AVAILABLE FOR 2022
Phone: 918-624-9382
Email:  chamber@aiccok.org

Eagle – $7,500
Recognition at all LNO Class Activities
Company name and logo (where applicable) on all collateral material including newsletters, social media, press releases & LNO Graduation Banquet.
Special Event Signage during LNO Graduation Banquet
Table for 10 (if requested) at LNO Graduation Banquet

Bear – $5,000
Recognition at all LNO Class Activities
Company name and logo (where applicable) on social media and awards program
Special Event Signage during LNO Graduation Luncheon
Four tickets to the LNO Graduation Banquet

Bison – $3,500
Recognition at all LNO Class Activities
Company name and logo on Social Media
Two tickets to LNO Graduation Banquet

Wolf – $1,000
Recognition during the month's LNO Class Activity that you sponsor
Recognition on AICCO Social Media
One ticket to LNO Graduation Banquet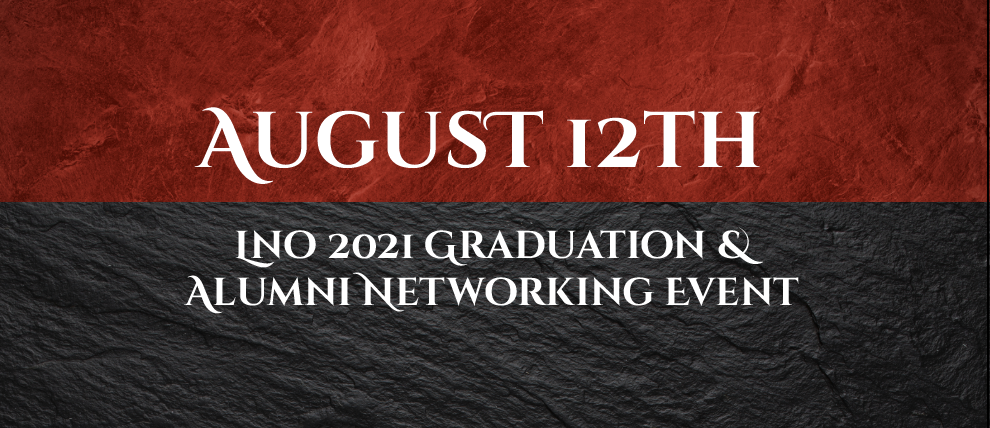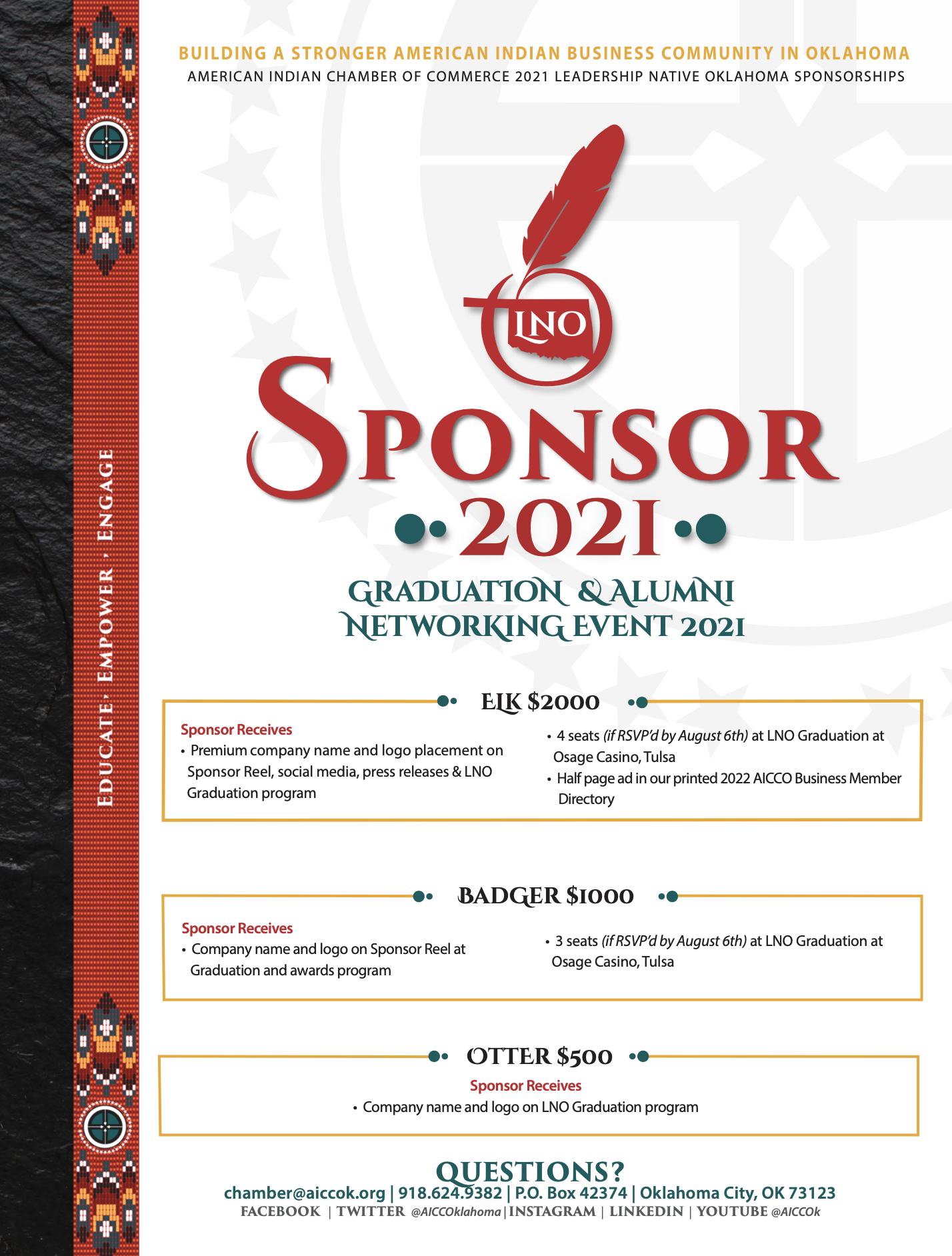 LNO 2021 Graduation & Alumni Networking Event – RSVP CLOSED
Hello Leadership Native Oklahoma! Join us Thursday, August 12th – 6PM-10PM.
WHERE: Osage Casino, 951 West 36th Street North, Tulsa, OK 74127
This limited seating event is for: LNO ALUMNI AND GRADUATING 2021 LNO CLASS **ONLY** (with thier +1).
RSVP Your Ticket: CLOSED as of August 6th, Noon.
What's a +1? Each LNO Alumni or LNO 2021 Graduate is permitted ONE guest. Any additional guests are not guaranteed event entry (due to limited seating). You must be present with your +1 at time of entry so that we can verify their registration.
6PM – 7PM – LNO 2021 Graduation
7PM-10PM – LNO Alumni Mixer
Cash bar, complimentary food. This is a free event!
*RSVP is required for entry due to limited seating, and e-tickets sales end August 6th, Noon.
Book your room! To book your room, as an LNO Alumni or 2021 Grad, use code LN0821 and call 877-246-8777 or visit www.osagecasino.com NOTE: A list of LNO Alumni & LNO 2021 Grads will be used at time of booking to secure your room by Osage Casino. If you are NOT an LNO Alumni or LNO 2021 Grad, the discount code does not apply.
Become a Sponsor! We'd love to promote your business! To sponsor or if you have questions email chamber@aiccok.org. Logos are due by August 4th.
2019 LNO Graduates received awards October 8th during the Gathering at Choctaw Casino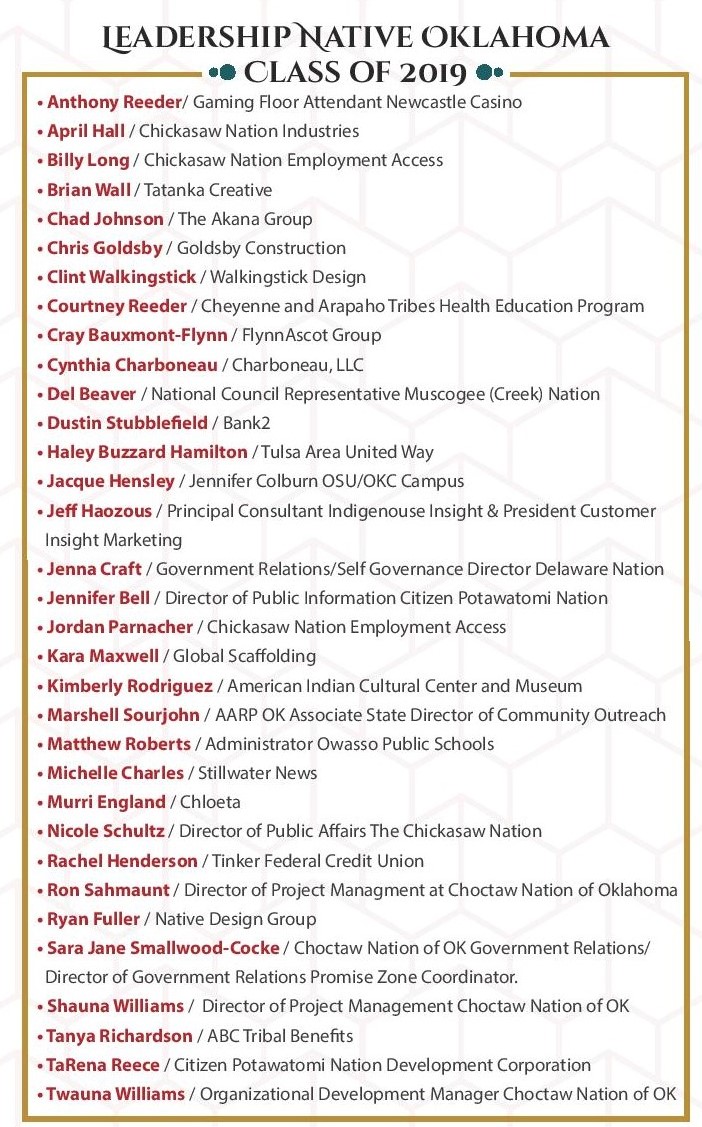 LEADERSHIP NATIVE OKLAHOMA 2018
2018 participants include –
Amanda Earsom, CEO All Element Solution
Amber Anderson, Research Epidemiologist OU Health Sciences Center
Anita Lena, Family Support Partner Oklahoma Family Network
Anna Jefferson, Author
Ayla Medrano, Manager Creative Circle Gift Shop & Gallery
Brandi Payton, Clinic Administrator Cherokee Nation Health Services
Brandon Gambill, VP Marketing & Sales R&G Business Services
Brent Rush, Community Engagement Advisor Enbridge Energy
Brent Wright, Vice Commander 138th Fighter Wing, Oklahoma National Guard
Carmin Tecumseh-Williams, Tribal Affairs Liaison Oklahoma Department of Human Services
Catherine Graddy, President/CEO WesaSolutions, LLC
Cathleen Guthery, Senior Associate FSB
Christy Red Eagle, Marketing Specialist Osage Casinos
Clayton Potts, Budget Analyst The Osage Nation Congress
Cory Littlepage, Founder/CEO Tribal Diagnostics LLC
Dana Miller, Tribal Government Relations Director Oklahoma Health Care Authority
David Bible, District Manager Metrie, Inc.
Debbie Lindsey, Business Development M3 Technology Solutions
Deborah Dotson, President Delaware Nation
Derek Fine, Insurance Agent Rich & Cartmill, Inc.
Dr. Crystal Moore, Professor Southeastern Oklahoma State University
Erika Davis, National Sales Manager Choctaw Casino & Resort
Greg Willie, Independent Insurance Agent
Jacob Teehee, Director of Business Development Chloeta Fire, LLC
Jody Colbert, Executive for Warrior Women Society/ Owner Mother Earth Florist
John Joyce, Attorney/Shareholder Joyce & Graddy
Jordan Kelley, Operator ServPro Eastern Oklahoma
Julian Guerrero, Executive Director for American Indian Education State of Oklahoma
Karen Knight, Executive Director of Tribal Relations United Healthcare
Kari Wagner, President/CEO Mid Star Lab, Inc.
Linda Arredondo, Director of IT Citizen Potawatomi Nation
Lindsey Laurenzana, Executive Assistant Auteur Management Solutions
Lindsey Treadwell, Community Relations Manager Mercy Hospital Ardmore
Matt Littleton, Project Manager Arrowhead Builders, LLC
Mechelle Aitson-Roessler, Assoc. VP for Enrollment Rose State College
Micah Shelton, Account Manager Sullivan Insurance Agency
Michele Meza, Quality Manager Compliance Choctaw Nation of Oklahoma
Mike Stopp, Chief of Staff for Honorable Markwayne Mullin
Rachel Crawford, Regional Director Native Initiative American Heart Assoc
Roberta Botello, Asst. to VP for Public Affairs University of Central OK
Ryan Wilson, Attorney Crowe & Dunlevy
Sarah Brown, Attorney and Municipal Judge Town of Depew
Leadership Native Oklahoma 2017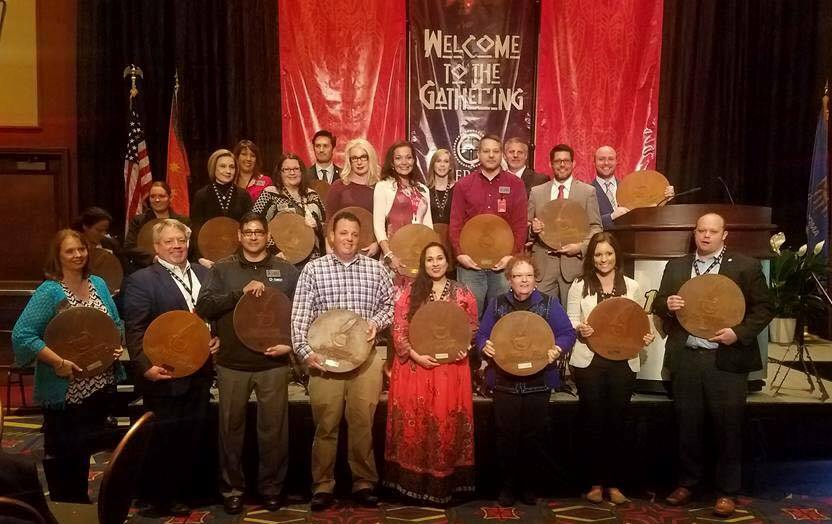 2017 Graduates
Each 2017 Graduate received a stone plaque created by Makrete Cast Stone Products during The Gathering Business Summit at the Hard Rock Resort & Casino.
Brandon Caruso, Loan Originator, Today Lending
Brian Hendrix, Deputy Assistant of Native American Affairs State of Oklahoma
Charlotte Burris-Leonard, President BCW Group
Christina Vaughn, Native American Law Attorney Crowe & Dunlevy
Ginger Sloan, CEO Encore Professional Medical Services
James Bearden, Owner, Non-Trivial Solutions
Jason Holuby, Architect, Native American Market Principal for Frankfurt, Short, Bruza
Jennifer Reeder, Manager American Indian Diabetes Prevention Center (OUHSC)
Josh Riley Sr., Policy Analyst Choctaw Nation of Oklahoma
Justin Arledge, Vice President, Sullivan Insurance Agency
Justin Wood, Former State Representative & Current Director of Tulsa Big Brother/Big Sisters
Lesa Steele, MBDA Business Specialist REI Oklahoma
Lillie Keener, President Blue Star Integrative Studio
Lucinda Myers, Tribal Relations Specialist & Government Relations Blue Cross/Blue Shield
Mark Masters, CEO Chloeta Fire/COO Tribal Emergency Management Association
Mike McBride III, Crowe & Dunlevy
Mitch McClain, President MGM Design Group
Morganne Lyon Bourbonnais, Business Development Manager Dobson Technologies
Norma Neely, Director American Indian Institute University of Oklahoma
Rob Griffin, Business Development Manager Dobson Technologies
Robert Gifford, Senior Attorney Gungoll, Jackson, Box & Devoll, Tribal Court Judge for Kaw & Iowa Tribes
Sarah Rana, Director of Youth & School Based Programs Oklahoma Center for Community and Justice
Scott Sewell, President/CEO THT Electronics Company
Stephanie Bills, Associate Superintendent Metro Technology Centers
Suzette Barta, Extension Educator for Community & Economic Development OSU Extension
2016 Inaugural LNO Class
Front row left to right:  Brian Hartley, Linda Sacks, Kay Turner, Linda Andre, Felecia Freeman
Back Row left to right: Shane Fernandez, Annetta Abbott, Bailey Walker, Michelle Prine, Dean Turner, Brent Greenwood (creator of drums), Adam McCreary, Wil Lowe