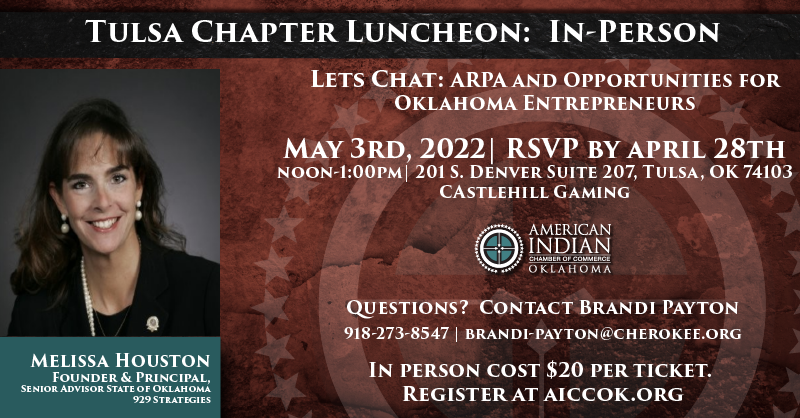 Join the Tulsa Chapter In-Person Tuesday, May 3rd, from 12 – 1 pm!
Where: 201 S. Denver, Suite 207, Tulsa, OK 74103

Cost: $20
RSVP deadline by COB on Thursday, April 28th.

Topic: ARPA and Opportunities for Oklahoma Entrepreneurs
Speaker: Melissa Houston, Founder and  Principal 929 Strategies, Senior Advisor, State of Oklahoma

Melissa Houston is an attorney who has more than 20 years of experience
on the front lines of public policy development and implementation in the
state of Oklahoma. An experienced and seasoned public policy professional
with a reputation for hard work, integrity, bipartisanship and strategic
thinking, Melissa is passionate about opportunities to shape the state of
Oklahoma for the better. She has served in a variety of capacities including
most recently as Oklahoma Labor Commissioner, Secretary for Education
and Workforce Development, and previously as Chief of Staff for the
Oklahoma Attorney General.