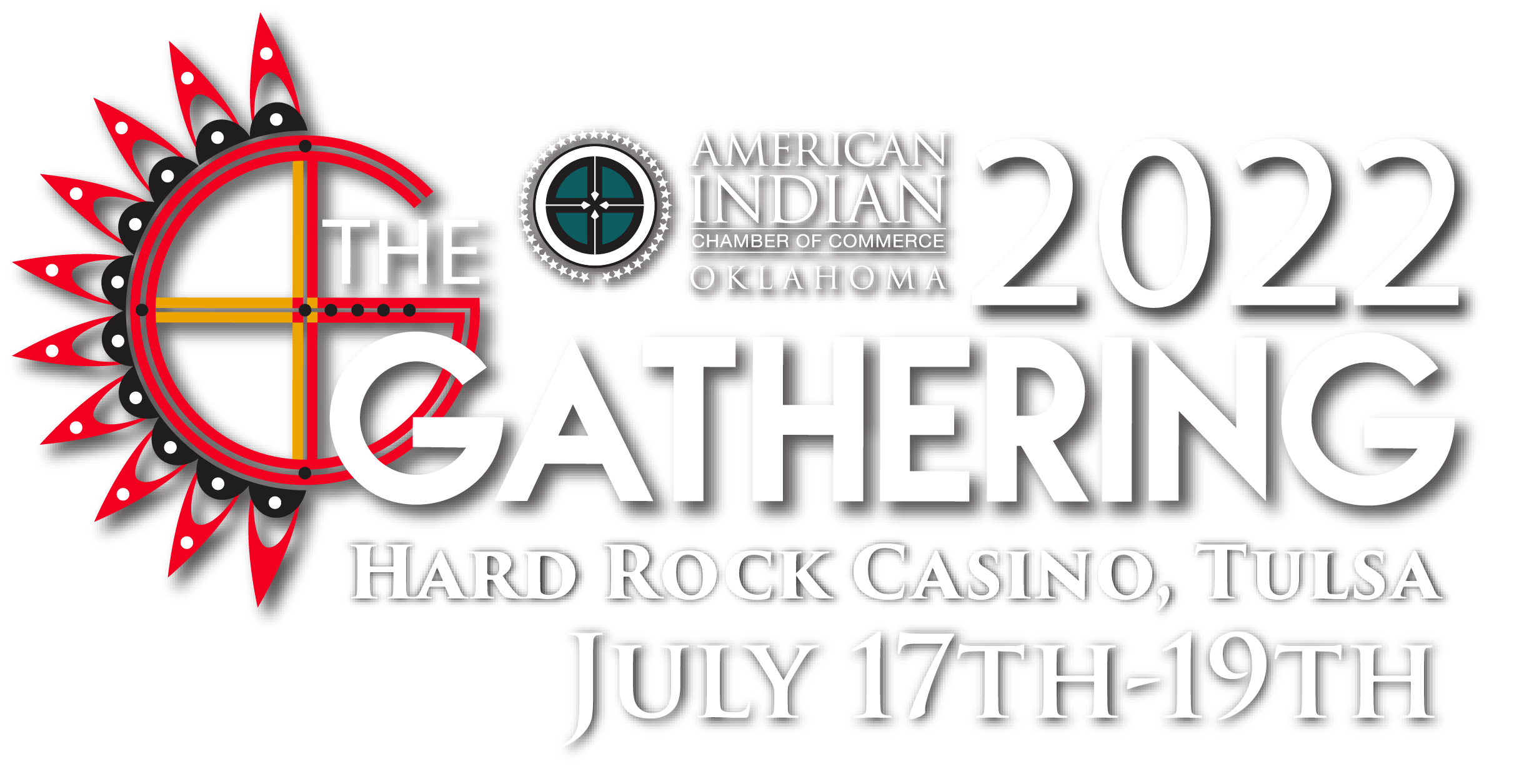 SPONSOR THE GATHERING 2022
Sponsor the Largest Native Business Event of the Year!
The Gathering Business Summit, is the largest event hosted by the American Indian Chamber of Commerce of Oklahoma each year.  We will have a FULL EXHIBITOR BOOTH DAY! The conference will also offer sessions that highlight successful business plans of Native-owned  businesses, how to seek government contracts, and obtaining financial assistance for your businesses. Visit with the directors of preferred Indian-owned programs and TERO from a number of tribes across Oklahoma who champion for Indian-owned businesses.  There are excellent networking opportunities! The AICCO Annual Awards luncheon will take place on Tuesday.
All Sponsor logos & ad artwork is due June 20th! Please submit it to the AICCO email at: chamber@aiccok.org.
HAWK $12,000 - Email chamber@aiccok.org
See Details
HAWK $12,000 - Email chamber@aiccok.org
Title Sponsor Logo Recognition on all promotional pieces and social media (logo due by June 20th)
Website Banner on aiccok.org (logo due by June 20th)
Back cover ad or 2-page ad spread placement in Program (logo due by June 20th)
Business Highlight  in front cover of program (provide all info by June 20th)
Four Full Conference Registrations
Prominent booth space
Include items in attendee bags (optional)
Speaking opportunity during Opening Session (optional)
Prominent Business Highlight on stage video screens
Free full page ad placement in 2022 Membership Directory (ad art due by June 20th)
One Free 2-day single room hotel
Fox $5000
2-page Spread or Full page ad placement in Program (ad art due June 20th)
Logo on aiccok.org  (due June 20th)
Prominent Business Highlight on stage video screens
Booth space (if requested)
Three Full Conference Registrations
Include items in attendee bags (optional)
Turtle $3,000
Full page ad placement in Gathering 2022 Program (ad art due June 20th)
Logo on aiccok.org (due June 20th)
Booth space (if requested)
Two Full Conference Registrations
President's Award $2,500
See Details
President's Award $2,500
Table of four to Gathering 2022
One Full Conference Registration
Speaking opportunity (optional)
Half-page ad placement in Gathering 2022 Program (ad art due by June 20th)
Logo on table tents and video screens (logo due by June 20th)
Booth space (if requested)
AICCO Awards $1,500
See Details
AICCO Awards $1,500
Table of five to AICCO Awards Banquet 2022
One Full Conference Registration
Half-page ad placement in Gathering 2022 Program (ad art due by June 20th)
Logo on table tents and video screens (logo due by June 20th)
Booth space (if requested)
Brothers & Sisters $1,000
See Details
Brothers & Sisters $1,000
Logo on Networking Reception table tents (due by June 20th)
One Full Conference Registration
Half-page ad placement in Gathering 2022 Program (ad art due by June 20th)
President's Table $700
See Details
President's Table $700
Table of eight seats
Listing in Awards Program (logo due by June 20th)
Dove $500
Logo on table tents and video screens during breakfast (logo due by June 20th) & Live Sponsor Mentions on stage