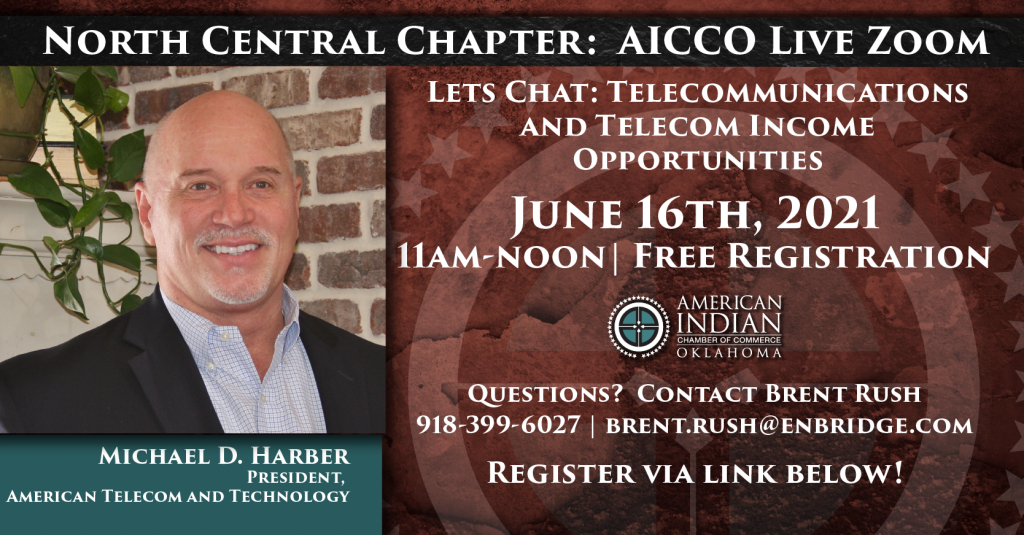 Join the North Central Chapter June 16th, 2021 from 11am – noon.
Where: via zoom, Please register by clicking the zoom link below
https://zoom.us/meeting/register/tJwsf–spzMiHdfTFpc0fkX18J3BxXZ3WXrD
Featured Speaker: Michael D. Harber, President American Telecom and Technology
Topic of Discussion: Telecommunications and Telecom Income Opportunities
Michael has been a member of AICCO for seven years. His great grandmother, Rose, was Cherokee and was able to escape her captors near Mountain Home, Arkansas, on the Trail of Tears. Michael is a lifelong Oklahoma City resident. He is married to Eva and has eight children and nine grandchildren.In business, Michael has experience in all aspects within the business telecommunications sector, including business sales and resale of Internet services from companies such as AT&T, Dobson, Windstream, and Cox. American Telecom and Technology has sold and installed over 1,000 business telephone systems and is experienced with wireless towers and access point technology, video security systems, access control technologies, structured cabling and installing fiber optic cable. Clients include two dozen Native American tribes.
To date my company has saved Native American Tribes over $2M in monthly expenses for fiber optic services and phone lines. Other clients include: Paycom, Express Pro's, OKC Dodgers, Lexus, Mercedes, Clements Foods, Ackerman McQueen, Kimray, Hunzicker Electric, ODOT, State Health Departments, Shawnee Feeds, No Man Lands Foods, Mathis Brothers, Bob Mills Furniture, and Century Martial Arts. Municipal clients include the cities of Woodward, Clinton, and Claremore in addition to rural electric companies such as Canadian Valley Electric and People's Electric. Other clients include over a dozen hotels, several small colleges, financial institutions, and numerous medical and clinical clients.
American Telecom and Technology was recently awarded aproject at the Canadian County Fairgrounds.
Event is FREE.
Questions: Please contact North Central Chapter President, Brent Rush at 918-399-6027 or brent.rush@enbridge.com