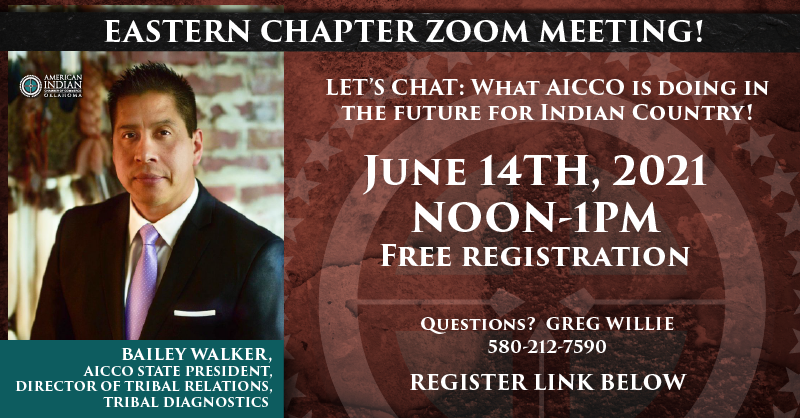 Join the Eastern Chapter, Monday, June 14th, 2021 from 12-1p.m.
Where: via zoom, Please register by clicking the zoom link below
Featured Speaker: Bailey Walker, AICCO State President & Director of Tribal Relations at Tribal Diagnostics
Topic of Discussion: What AICCO is doing in the future for Indian Country
Bailey Walker, a Chickasaw Citizen, President/CEO of Four Winds Strategy Group LLC and Director of Tribal Relations for Tribal Diagnostics LLC was elected as the 2020 AICCO President at the December State Board of Directors meeting. Bailey's active in the American Indian Chamber of Commerce of Oklahoma, first serving as an Advisory Board Member, State Board Member, Vice President, President Elect, and State President for 2018-2021. He has assisted in the creation of the SW Chapter, SE Chapter, & Eastern Chapter. In 2016, Bailey accepted an opportunity to help build a pilot program Leadership Native Oklahoma to assist future leaders. Previously serving as the Chickasaw Nation Preferred Vendor Program Coordinator, he advocated on behalf of the vendors aspiring to do business with the Chickasaw Nation & other tribal nations. He has a unique personal and professional knowledge of issues that many minority business owners encounter and utilizes his experiences to help other minority entrepreneurs navigate small business challenges and achieve success.
Questions: please contact Eastern Chapter President, Greg Willie at 580-212-7590.