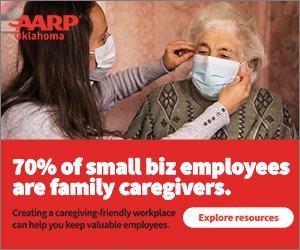 73% of U.S. workers are also family caregivers—juggling kids, a loved one's needs and their workload. AARP is here to help you help your work family.
In fact, 524,000 Oklahomans care for older parents, spouses and other loved ones so they can live independently in their homes and communities. And that number has only grown duringthe pandemic.
Learn how you can create a caregiver-friendly workplace that retains talent and inspires increased productivity. Discover tipsheets, toolkits and care guides to help you educate decision-makers and HR staff at: www.AARP.org/EmployerCaregiving
You'll find helpful information and tools, including:
Employer Resource Guide — This collection of resources from advocacy groups, private sector organizations, and federal, state, and local government agencies can help businesses and their
workers maintain their physical and economic health during the pandemic.
Small Business Caregiving Guide — This guide offers a roadmap for small businesses to build a caregiver-friendly workplace as they begin to reopen and as caregiving continues to be a concern for many employees. It includes best practices and strategies for having conversations with employees and implementing policies that help working caregivers succeed.
Small Business Tipsheet — This tipsheet provides guidance and resources on how small businesses can better manage the COVID-19 pandemic.
Now more than ever, caregiving is an important part of Americans' working lives. In order to support caregivers in the workplace (and maybe even yourself), it's important to remember to:
Commit to personal safety for employees — Be vocal about how employee safety is a priority for you and your business and clearly communicate what steps you are taking to make your workplace safe.
Require remote work for as many employees as possible — Remote and flexible work arrangements are proven strategies to help support caregivers.
Ask your employees what help they need — Be sure to ask working caregivers what they need to be successful.
Share relevant resources and information with your employees — Connect your employees with the relevant information and resources.
We hope these free resources and tips will help you create a workplace that works for family caregivers.
AARP is committed to supporting small businesses, older entrepreneurs, older workers, and caregivers with resources and guidance.
Regards,
Mashell Sourjohn
Associate State Director of Community Outreach
AARP OK
MASHELL SOURJOHN | Associate State Director of Community Outreach
126 North Bryant Avenue, Edmond, OK 73120
Email:  msourjohn@aarp.org | Office: (405) 715-4474 | Cell: (405) 757-8600 | www.aarp.org/nativeorigins