View the online Edition of Native Oklahoma by clicking here.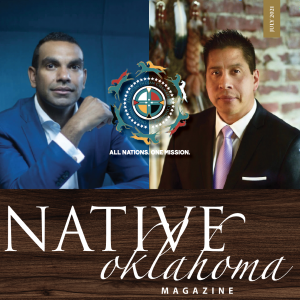 By Kimberly Burk, for Native Oklahoma Magazine
TULSA — Networking, workshops and a keynote speaker with vision await members of the American Indian Chamber of Commerce of Oklahoma during The Gathering Annual Business Summit, set for July 18-20.
Benson Igua Saulo, Australian Consul-General posted to the Houston office, will speak at 3:30 p.m. July 19, said Bailey Walker, a citizen of the Chickasaw Nation and state president of AICCO's board of directors.
Saulo, the first indigenous person to serve as an Australian consul-general, is a descendant of the Wemba Wemba and Gunditjmara nations of Western Victoria and the New Ireland Province in Papua New Guinea.
"His visit is nothing short of spectacular, monumental and historic," Walker said. "Benson is a game-changer and visionary for his people."
Walker said he met Saulo in person and has also been interacting with him on Zoom and telephone calls.
"We connected on basic values and issues affecting our indigenous communities in Australia and Oklahoma, like we have been friends for years. His genuineness is his biggest attribute."
Saulo also holds the title of senior trade and investment commissioner for the Australian Investment
and Trade Commission. Prior to his appointment, he was head of partnerships and investments at
Australian Unity, a wealth and capital markets business. He was also founding director of the National
Indigenous Youth Leadership Academy, which engages young indigenous Australians to develop and
drive youth-led social action campaigns relating to suicide prevention, climate change, mental health
and welcoming refugee and asylum seekers.
Walker said Saulo is working with corporate, government and not-for-profit sectors on economic
opportunities including investment and trade. Part of that mission includes meeting with American
Indian chambers of commerce, Walker said.
"It is up to us to create a world that truly values and shares indigenous cultures and connections, builds
resilience and courage in all of our communities, and creates a more equal and just society," Saulo
wrote in an article for the Australian-based The Future Now Project.
"After meeting Benson, the takeaway was of a mutual need to create a robust economic channel to
learn, educate and engage the First Americans and indigenous people of our countries," Walker said.
"The AICCO and Australian Consul-General have much work to do, and we couldn't be more excited to
partner and collaborate for our people. We are all Nations, one Mission."
The Gathering Business Summit, to be held at the River Spirit Casino Resort in Tulsa, is the largest event
hosted every year by the American Indian Chamber of Commerce of Oklahoma. The conference will
offer sessions that highlight successful business plans of Native-owned businesses, as well as workshops
on how to seek government contracts and obtain financial assistance for businesses.
Summit participants can meet with the directors of preferred Indian-owned programs from a number of
tribes across Oklahoma who champion for Indian-owned businesses.
The AICCO Annual Awards luncheon will take place on July 20. Attractive copies of the new membership
directory will be released during the summit, Walker said.
Registration is $175 for members and $200 for non-members of the Chamber. Non-member businesses
that want to join the Chamber before registering for the summit can do so online and should then
create a member profile within their account at the AICCO website, Walker said.
Exhibitor booth space is $375 for members and $400 for non-members of AICCO.
Walker, who is president and CEO of Four Winds Strategy Group and director of tribal relations for Tribal
Diagnostics, said AICCO now has six Oklahoma chapters. He said that success has led to AICCO being
asked to help start and educate indigenous chapters in other states.
View the online Edition of Native Oklahoma by clicking here.